I've been having the jitters after reading Twilight and New Moon. It's the after effects of reading the books that gets me. Secondly, after knowing that Twilight may be made into a movie, I've been contemplating which actors should play the characters and I have found quite a few for the male and female lead roles only.

Firstly, Bella Swan... I have two actually. It was really hard to decide because Bella isn't any ordinary girl. She's really pale, has thick lips (not the one like Angelina Jolie though), lips that are not too thin or too big... haha. Has brown eyes and hair. The first candidate which is Stephenie's favourite too is Emily Browning from the Lemony Snicket movie.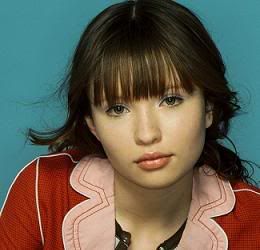 Another actor that I really like is Danielle Panabaker. She acted in various Disney movies like Read It And Weep which was shown in Disney Channel this month and Mom At Sixteen which was shown on Hallmark Channel.


Okay... so these are the two actors that I really like as Bella. As for Edward Cullen, the oh-so irresistable and hot vampire, there were a few choices. The first choice which Stephenie also like is Henry Cavill who acted in The Count Of Monte Cristo.



Another choice is Trent Ford. At first he wasn't even in my mind but when I watched Deeply on Channel 5 yesterday, I just kept on thinking that he would play a good Edward - with the hairstyle and look since Edward was born in the early 20th century.


The last Edward choice for me is the guy who was in Evenescence music video - Call Me When You're Sober. His name? Oliver Goodwill...



Okay... well he doesn't really look the part but well... I just can't resist him!! LOL Well... these are the actors that will suit playing Edward Cullen and Bella Swan. And hopefully, they will be making Twilight into a movie... it'll be the best ever!! :P